Longer Bike Rides around Wales
Why not leave your car behind and hire a bike and spend your holiday exploring the wonderful cycling routes north Wales has to offer. With several long distance Sustrans routes here the navigation is easy. Explore Anglesey, the Llyn Peninsular or the Clwyd valley and hills , we can help you plan your route and provide maps and advice on accommodation and trip planning.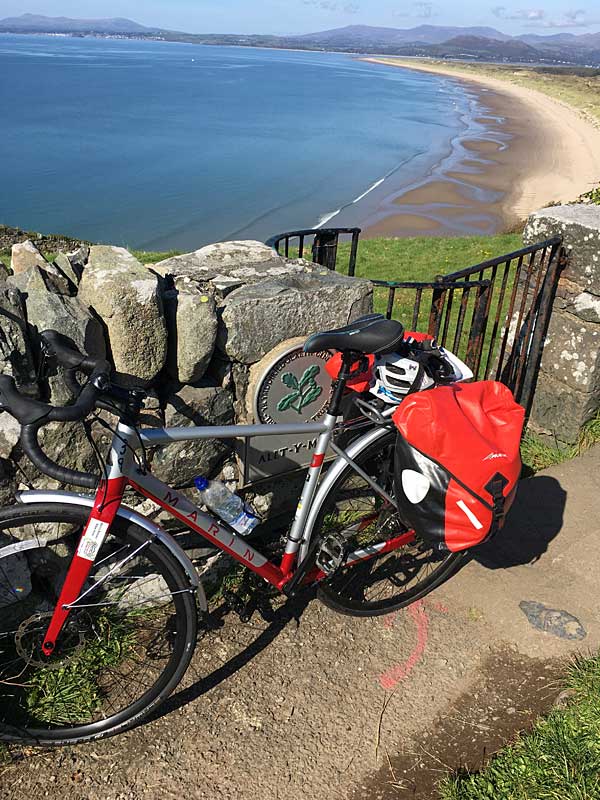 The quiet roads and hills of Wales can be quite challenging so why not take one of our trekking E bikes to help you ride with ease and enjoyment. 
We can supply panniers and other touring equipment and can assist with transfers if necessary. 
Recommended Bike Routes and Trip Planning
Planning your cycle tour
To make the most of your experience we advise that you plan to spend between 2 and 7 days on your bike tour, although single day rides can be just as enjoyable. All rides will be self guided and we will provide maps, route notes and GPS files (if required). We can also provide back up support such as emergency breakdown/injury call outs if required.  The distance travelled on each day will be influenced by a number of factors including terrain, location, group size, type of bike and fitness levels. We will help you to plan the tour and itinerary according to your needs and wishes.
Factors to consider:
Timescale – how long to do have available? We suggest at least 1 night away.
Distance to be travelled - The total distance of the chosen route and the distance travelled each day depends on a number of factors, fitness level , size of group, length of day, stamina, terrain, type of bikes being used, suitable places to eat and stay, breaks and stop offs on route.
Budget – How much is to be spent on bike hire, pick up and drop off and accommodation.
Scenery and Location – Some people prefer coastal and estuary landscapes, others mountainous and hilly landscapes others a mixture. Choose between remote areas, or travel between larger villages and towns There are many choices in Wales and we can advise.  Choose between circular routes or linear routes involving vehicle or train transfers.  
Try not to return by the same route and plan to do the hilly bits first!
 Some suggested routes for consideration, these are based on general areas and approximate distances.
Sustrans route 8  Cardiff to Holyhead
General Description:
Approximately 250 miles of signposted lanes cycle ways and tracks.
Linear route linking Cardiff in the south to Holyhead in the north return by train.
4 to 7 days 30 to 70 miles per day average.
Mountain, coastal and moorland.
Notes: Can be done in shorter sections. Eg Caernarfon to Dolgellau or Porthmadog to Holyhead. Can be done as circular ride using other routes.
Sustrans  route 82 
General Description:
Route 82 follows 151 miles of signposted lanes and tracks off the main route 8.
Includes Bangor to Llyn Ogwen,
Porthmadog to Machynlleth,
Machynlleth to Aberystwyth,
Aberystwyth to Fishguard.
Notes: Timescale and mileage depends on chosen route.
Sustrans route 81
General Description:
Route 81 follows 113 miles of signposted lanes and tracks from Aberystwyth to Shrewsbury.
Notes: Transfers by train from Llandudno Junction.
Can be done a circular rides using other routes as return.
Sustrans route 5
General Description:
Sustrans rout 5 follows over 350 miles from Reading in the south of England to Holyhead in North Wales.
The North Wales section travels through from Holyhead to Chester with various options on route.
Mainly coastal tracks.
Notes: Transfers by train
Can be combined with other routes to create a circular ride.
Circular Tour of Llyn Peninsular /Pen Llyn 
General Description:
Wonderful beaches, hills and historic sights.
Many lanes and quiet road to explore. Route can be explored from Caernarfon in the north to Porthmadog in the south taking in Aberdaron, Abersoch and Criccieth.
1 to 4 days.
Total distance depends on the chosen route but could be between 50 and 100 miles.
 Notes: A great location for a circular route.
Transfers by Beics Betws or train.
Circular Tour of North Snowdonia 
General Description:
Route links a number of trails, lanes and roads according to timescale.
Combines some of the Brailsford Way, a popular road cycle route in Snowdonia. Mileage is between 30  and 120.
Takes in Betws y Coed, Conwy, Bangor Caernarfon Porthmadog, and Beddgelert.
 Notes: Transfers by Beics Betws or train.
St Asaph to Oswestry via Llangollen
General Description:
Explore the area of Offa's Dyke, cycling in the foothills and valleys of the Clwydian hills and ride the Llangollen canal and famous Pontcysyllte Aqueduct.
Linear ride up to 90 miles.
 Notes: Transfer by train or Beics Betws.
Could be made into a longer circular route returning via Bala.
Bala, Welshpool circuit via Lake Vyrnwy 
General Description:
Explore some of the largest lakes in Wales by taking the back lanes and moorland roads to Llyn Bala and Llyn Vyrnwy.
Linear ride  up to 90 miles.
Notes: Transfers by Beics Betws on continue to nearest station.
Betws y Coed, Ceredigion, Ruthin, Denbigh, Rhyl
General Description:
Start at the gateway to Snowdonia, Betws y Coed and ride through wonderful remote moorland countryside ending up on the coast at Rhyl.
Linear ride up to 90 miles.
Notes: Transfers by Beics Betws or train.
Could be made into circular ride.
Dee Valley, Ceriog Valley and Tanat valley tour 
General Description:
This route explores the Dee Valley following the wonderful River Dee through Bala, Corwen, Llangollen and Chirk then through the Ceriog and Tanat Valleys and over the Berwyn Mountains.
2 or 3 days riding with some lovely towns and villages on route. Great on an E Bike.
Notes:
We will take all responsible steps to ensure that routes are safe and achievable by people with a reasonable level of fitness. However, all outdoor activities involve a degree of risk. Riders will explore these routes at their own risk and Beics Betws can accepts no responsibility for any accidents or injury resulting from following these routes.
Walking and cycling routes change over time. Weather conditions may also affect path surfaces. Please use your own judgement when using the routes based upon the weather and the ability, experience and confidence levels of those in your group.